6 reasons why Vee is a fant-ass-tic gift this Christmas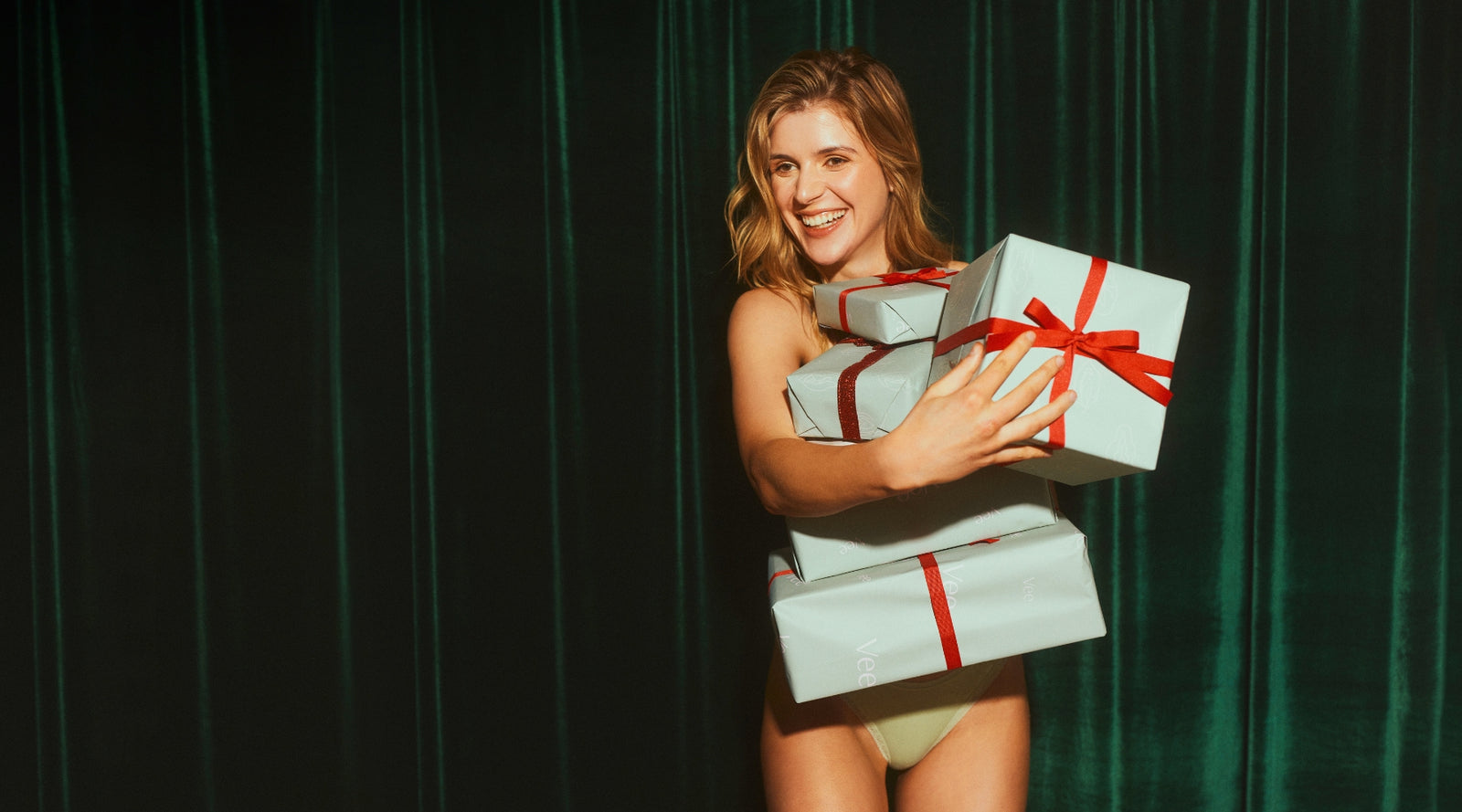 Santa baby, explain the benefits of gifting Vee to me. I want to jump on-board the V-train, Santa baby, so hurry up and convince me tonight. 

Does receiving underwear at Christmas make you cringe more than our attempt at that Santa Baby intro? Have you sworn never to be like Granny Pat and give someone a pair of underwear at Christmas?
See, nothing excites us more than giving the gift of a healthier, happier hoo-ha this Christmas, but we know you might need a little persuading. This is why we've compiled 6 reasons why Vee is the ultimate Christmas gift this year.
Here goes...
1. It's got your back covered
While Uncle Graham is making jokes about your cousin Holly not bringing a partner to this year's festivities (eye roll), rest assured you'll be giving her more than just moral support with her new pair of Vee's. Our underwear works hard to ass-entuate those ass-ets, making sure all those hinge hook ups, cousin Holly is seeing on the sly can appreciate her new Christmas goodies. You go, Glen Coco!
2. It's got your bits covered
Remember that time your mum had one too many glasses of sherry last year and told all your family about your sister's unfortunate yeast infection? Here's your time to shine as Sis of the Year. Give her a pair of Vee's this Christmas and she can kiss those future yeast infections goodbye. That's because our fabric, made from organic bamboo, is a breath of fresh air for your downstairs. With its built-in ventilation system, this vagina-changing fabric is famous for being antibacterial and antifungal, helping to stop nasty bacteria in its tracks. Unfortunately, it can't do much about your mum's sherry consumption though. 
PS: If she's a cool mum, she could definitely benefit from a Vee thong (wink).
3. It's got your health covered
'Tis the season to be conscious of your friends and families health - and that includes vaginas. Vee's bamboo fabric is packed full of health benefits. The natural odour-resistant and moisture-wicking fabric works to draw out moisture, rather than letting it bake in between your legs. So leave the moistness for your aunt Marge's Christmas cake and stock her stuffing with Vee instead.
4. It's got your comfort covered
Does your friend suffer from a serious case of muffin top? She could be dealing with a pair of underwear that are too tight. And if you're not comfortable telling her about her undie-ailment, the least you can do is give her the gift of comfort. Vee takes a stand against plumber's cracks, wedgies, saggy butts and too-tight seams. All which can constrict blood flow, cause ingrown hairs and chafing in the thinner, sensitive skin surrounding your hoo-ha. Our flattering design is made for comfort without compromising on style.
5. It's got the planet covered
Santa isn't only gifting Vee to you, but to the planet too. Before your Vee's become your new favourite pair of underwear, let's see why they've ended up on Santa's Nice List this year. 
✔ Naturally renewable resource 
✔ Uses less water than cotton to grow

✔ Doesn't require pesticides or herbicides
✔ Produces 35% more oxygen than trees
✔ 100% biodegradable 
6. It's got your wallet covered
Besides being great for just about everything, Vee comes in at a great price point. At $25 it's perfect for your work KK. Who says your work ladies don't need a little bit of lovin too! Or you can get bundle 5 KK presents for $100 at $20 each and no one will know you've secretly come in under budget. Now isn't that a Christmas miracle!
We hope we've done a good job of converting you to the cause. While it might feel a bit awkward at first, just remember, underwear is something we often forget to buy ourselves and it's something us ladies always need. We think every woman should be gifted a pair of Vee. Nothing says you care for them more than by looking after everything from their bits to their confidence. 
You can shop all Vee's styles here. 

Merry Vee-Mas
xx
---