Feminist AF: 15 Gifts Under $40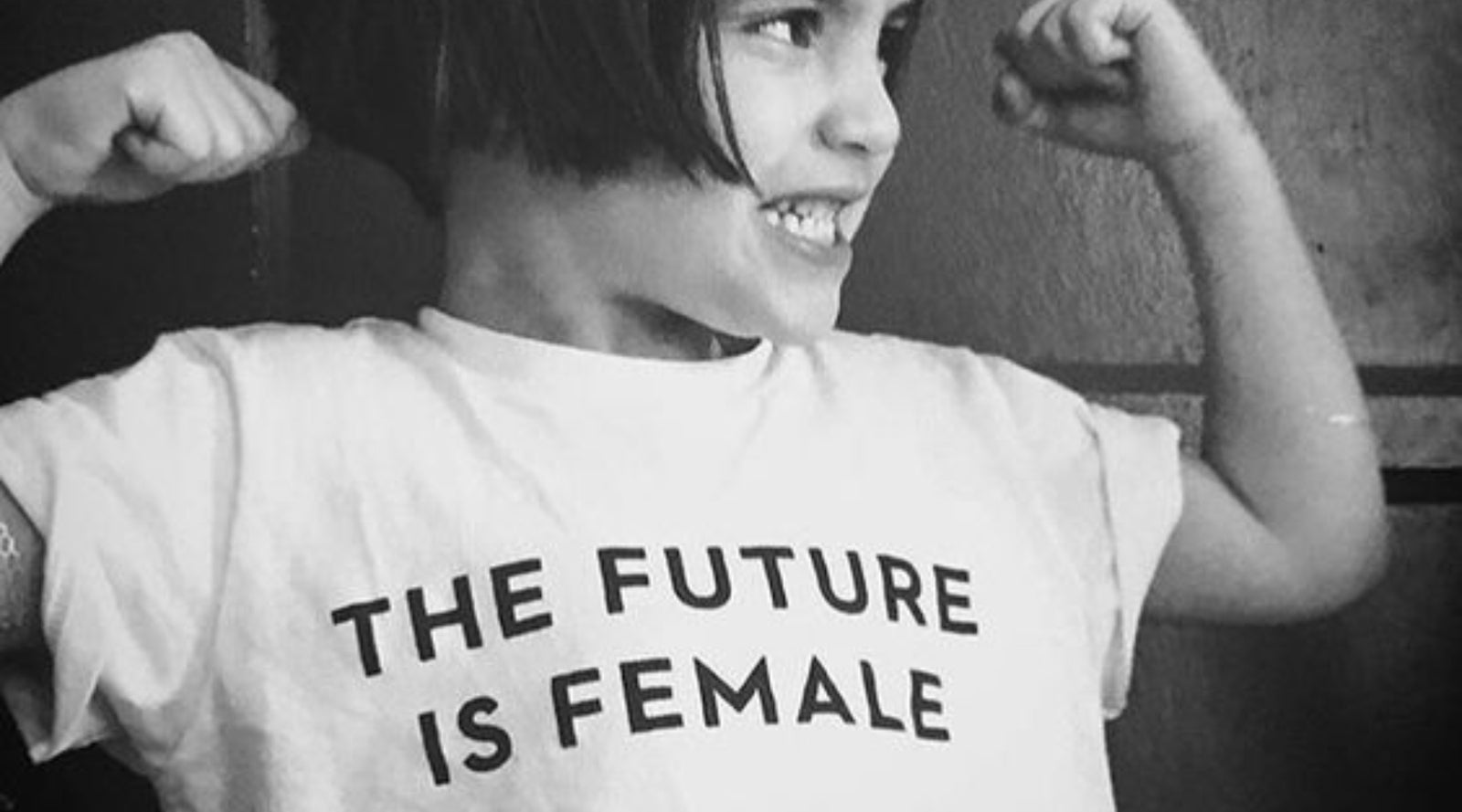 While 'Feminism' is still a widely debated idea, it is an ideal we should all understand and actively seek to deconstruct in our everyday lives. At a basic level, feminism is defined as: the belief in social, economic, and political equality of the sexes. Although largely originating in the West, feminism is manifested worldwide and is represented by various institutions committed to activity on behalf of women's rights and interests.
With this in mind, (and Christmas coming) we've decided to curate a list of gifts that touch on feminism ideals for you and your loved ones. From body positivity to social good, political equality and self-compassion, each gift celebrates the true meaning of equality to remind you and your KK/Bestie/Mum that they matter, even in a world that's still debating it.
Born in Poland, raised in Germany and residing in Florida, Maggie Stephenson is a self-taught artist and illustrator who uses vivid colors, organic lines and rich textures to explore the female form. From mother's and children to days at the beach, Maggie's delicate illustrations look beautifully framed and make the perfect statement piece for work or home. 
Since it's still illegal for us to walk around with our boobs out (hello double standards), we have found another way to show off instead. This sustainable boob tote bag is made from organic cotton, making it the perfect material for wash and wear sustainable shopping, but it's the bag's body diversity that has us smiling loud and proud.
Just in case no one told you today, hello, good morning, you're amazing, I believe in you, nice butt. And if you need to hear it again, this minimal coffee mug will remind you, because there's nothing stronger than coffee and some positive affirmations. Can we get an amen?
If you have never tried Hey Tiger chocolate - stop reading this and go eat some right now. This Australian female-founded chocolate brand and social enterprise has a range of vegan and non-vegan goodies that put Willy Wonka to shame. From birthday cake to peanut butter pretzel, each unique chocolate block is created with delicate flavours and design with ornate illustrations. If that wasn't enough to sweeten you up, the brand is also on a mission to make change in the cocoa industry, partnering with the Hunger Project to positively impact cocoa farming communities in Ghana. To date, they've raised $253,773 - impressive, right.  
Not a day goes by where we wonder: what are we doing with our lives? Luckily the folks at Collective Hub (founded by the entrepreneur goddess Lisa Messenger) created a Daily Mantra book to turn us into the journaling-organised-yogi's we all pretend to be on Instagram. Each book is beautifully designed and includes meditations, musings, quotes and affirmations to remind you that each day is in fact a #blessing.
Oh, how did this get here? Well, because it would be rude not to talk about ourselves (hehe). We are the proud operators of eco-friendly bamboo underwear that keeps your hoo-haa happy and the planet happier. If you need a refresh for 2021 or want to give your girlfriends something they can always go without (thrush), pick up a gift-card here or peruse our drawers here.
Get a grip on your life (aka phone) whilst helping scientists get a grip on breast cancer research. These cute Phone grips come in a range of styles from leopard print to messages of 'Grl Pwr.'  50% of sales of these exclusive PopGrips go to the McGrath Foundation who provide invaluable support and care to women and men experiencing breast cancer.
These are not Michelle Obama's personal HB's but they are engraved with her quotes. Each 'Becoming Pencil' order contains seven gold foiled pencils so the next time you cross something off the to-do list, you have Michelle cheering you on.
A truly ironic name for the world's most frustrating hobby.  Made from 85% recycled paper, this gorgeously illustrated puzzle features some of history's most empowering women.
If you're not big on the beauty scene, Ultra Violette is an SPF focused beauty company founded by two Australian beauty alums that wanted to change the face of the industry by reminding Aussies to protect theirs. Their SPF lip balm comes in four shades: Peach, Shimmer, Nude and Rose, each offering a wet-look finish and packing a huge level of SPF, 50 to be exact. A great stocking filler. If you're feeling extra generous, chuck in one of their luxe face sunscreens starting from $45.00. 
Julia Gillard's misogyny speech will be remembered as the moment Tony Abbot died and went to heaven. It's also the moment Julia Gillard became synonymous with the feminist movement and a champion of equality. Since her time as Prime Minister, Julia has continued her work across the education, leadership and mental health sectors but with women making up fewer than ten per cent of national leaders worldwide, Julia wanted to expose the pattern of unequal access to power.
'Women in Leadership' is the result. Blending personal history, research and interviews with some of the world's most powerful women, including Jacinda Ardern, Hillary Rodham Clinton and Christine Lagarde, Women and Leadership is an inspiring reminder of how far we've come and how far we have to go.
Flex Mami could sell us a half-eaten pickle and we'd still buy it, so it's a no-brainer we're giving her a plug. Flex is a DJ, TV presenter, podcaster and entrepreneur who uses social media to explore everything from orgasms to racism. Her best-selling card game 'Reflex' invites us all to do some critical (yet, fun) thinking by ourselves or with others. It's the perfect gift to get drunk and deep to.
Before we dive into what this book is about, let us all take a moment to soak in this incredible cover art. Done? Ok. 'Icons' features colorful portraits of fifty  of the most admired women in the fields of music, politics, human rights, and film including Aretha Franklin, Dolly Parton, Yayoi Kusama and many more. illustrated by Monica Ahanonu, each portrait is accompanied by a short biography about what makes each woman a force to be reckoned with.
Yes this is our second Collective Hub endorsement but like Kanye everyday, we can't help ourselves. This illustrated journal is all about giving you the space to get clear on what you want by providing you the tools and structure to achieve them. From financial goals to career progression and weekly planning, it's got everything you can think of to start thinking outside the box.
Feminist Apparel exisits to create space for feminist dialogue by chamipning designs by independent feminist artists. The brand boasts a range of clothing from T-shirts, jumpers and pins with 10% of the company's net profits donated to a coalition of feminist nonprrofits. Our picks are the Notorious RBG and 'Friends' 'F.E.M.I.N.I.S.T' sweatshirt.
BONUS ROUND
16. Mila Pearl Studs by Francesca Jewellery - $79.
These Mila Pearl Studs by Francesa Jewllery make diamonds seam like fuck bois but it's  but it's the company's commitment paying it forward that really wears well. This female founded, aussie-made employees a range of refugee women and makes regular charitable donations. 
This box is all about breaking the box placed on female pleasure by giving you the tools to (literally) do it yourself. Like most patriarchal structures, the only way we will feel more comfortable about female pleasure is by removing the shame associated with mastrubation and talking about it matter-of-factly and the fact is: orgasms feel good. Here is a box of them. Give yourself, your friend, your partner or even your mum a happy ending.  
Beautiful jewelry made by Ugandan women, providing a steady income in the face of extreme poverty.
A head-to-toe skincare package made with natural ingredients and Australian botanics to soothe skin and leave you feeling loud and proud. Plus, the packaging is art in it's own right.
Sarah and Sebastian's barely-there aesthetic has won them fans the world over. We love Their Petite Initial necklace as a reminder to always show up for yourself - worthy, strong and present. Each necklace comes in white or yellow gold and features a single letter or initial pendant on a fine chain.
We hope this curated list of gifts help to celebrate all that femme-culture is and everything feminism stands for—equality, empowerment, and freedom—from brands that are doing it right in a year that's felt like a right-off.  
Merry f***ing femme-ness XXX
---